This article or section is about an unreleased game or downloadable content.


The content may change as more information becomes available. Please do not add unsourced speculation. Stay tuned for details and visit the talk page for discussions.
Alternative Fire modes
(or alt-fire modes) are unique methods of attack featured on many guns in
Borderlands 3
.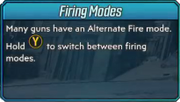 Known Alternative Fire modes
Maliwan weapons can switch between two different Elemental Damage types.
Dahl weapons switch between fully automatic and burst fire.
Vladof weapons have two barrels, one active and one inactive below it. If both are different, switching modes will rotate the barrels, changing to the previously inactive one. If both barrels are the same, they will instead rotate by 90°, activating them both.
Atlas weapons shoot a tracking dart. After applying it, all regular shots will target the same location.
Torgue weapons switch between their regular explosive projectiles and sticky explosives. Once stuck, these sticky bombs will explode after a short time, doing more damage than regular shots and triggering all other stuck explosives caught in the blast to also explode.
Media
Community content is available under
CC-BY-SA
unless otherwise noted.