Altar Ego: Burning Heresy begins a series of three optional mission in Borderlands to stamp out a new religion that has sprung up among the bandit population. This mission becomes available on Middle Of Nowhere Bounty Board after the completion of its repair.
Background
"We need to put an end to this new 'religion' the bandits are creating, before they gain a following and all hell breaks loose. I can't help but wonder what started the whole thing, but I'm paying you to end it. I want you to destroy the scriptures that they preach at each of their altars."
Walkthrough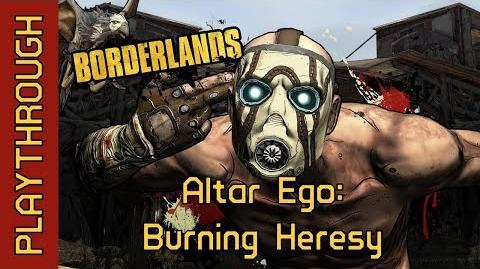 Objectives
Burn the scriptures at bandit chapels.

1st scripture burnt
2nd scripture burnt
3rd scripture burnt
Strategy
This is a follow the way point to the objective mission.
The first scripture in the north-western corner of Rust Commons East, directly north from the Middle of Nowhere. The bandit shrine is below the hill on which several huts are located and next to the waters where spiderants spawn. When the scripture is burned, multiple spiderants will begin to spawn.
The second scripture is through the tunnel by the Middle of Nowhere outpost, then north. Burning the scripture will cause psychos of all sorts to spawn from the nearby huts.
The third is south of the Middle of Nowhere outpost. They are all in a hut/house structure.
Completion
"I should've known, we've only made them angrier and more zealous. Fortunately, I've got new information that'll put an end to these charlatans."
Gallery
Notes
QR Code translates to: NICK WILSON / HO OH .
Item Card of Bandit Scripture is says: It's impossible to make out anything written here.
The scriptures are collected like any other item, not actually burned. However, the illusion of burning it created by the flame. The scriptures will not appear in a character's inventory.
Community content is available under
CC-BY-SA
unless otherwise noted.